[Original works from the Stanley Kubrick Estate.
Stanley Kubrick and Geoffrey Unsworth developed a system for calculating from the grey tones of b/w Polaroids the right lighting for filming
2001: A SPACE ODYSSEY.]
Update

&not Newsletter abonnieren
Deutsches Filmmuseum, Stanley Kubrick Newsletter No. 22, February 2008
Dear colleagues and friends:
last year the Deutsches Filmmuseum was on tour with several exhibitions: Stanley Kubrick opened in April in Zurich and Maria Schell in July in Castle Wolfsberg in Austria; Stanley Kubrick moved to Rome in October; and Das Boot opened in Bonn in November. 2008 will also be an eventful year: Karl Valentin is shown in the Martin-Gropius-Bau Berlin until 21 April; after its presentation in Frankfurt (27 February to 3 August), Anime! will go to the Louisiana Museum of Modern Art in Copenhagen (starting in October) and then in 2009 to the Academy of Motion Picture Arts and Sciences in Los Angeles.

Record Turnout in Rome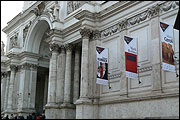 The Stanley Kubrick exhibition, touring since 2005, broke a record during its stay at the Palazzo delle Esposizioni in Rome: about 160,000 people came to see the presentation in Rome's magnificent exhibition space on the Via Nationale in the heart of the city. During its six-city tour, more than 380,000 people so far have visited this major exhibition based on the Stanley Kubrick estate.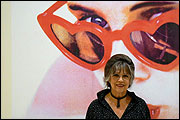 The president of the Italian Republic, Giorgio Napolitano, was given an exclusive preview of the exhibition before the Palazzo was officially reopened on 6 October 2007, after five years of extensive restoration. The Kubrick family had long been looking forward to the venue in Rome, not only because the Palazzo provided such a prestigious space for the master director's work, but also because Stanley Kubrick's oeuvre enjoys enormous popularity in Italy. A film retrospective, accompanied by an interdisciplinary lecture series, was put on in the Palazzo's own cinema. New prints of the films were produced by Warner Bros. (Italy) specifically for the Rome venue!
More information and pictures here

What's next?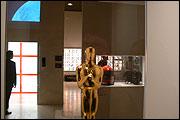 Currently plans are in the works to take Stanley Kubrick to London in 2008. All information concerning the tour will as usual be published on www.stanleykubrick.de.
A redesign of the exhibit, now starting its fifth year, is definitely planned. After London, our goal is to show Stanley Kubrick in at least two locations in the United States, before travelling to Asia.
We're happy to be able to keep you updated with information on the Stanley Kubrick exhibition as well as our current programme!
Your exhibition team,
Hans-Peter Reichmann, Tim Heptner, Maja Keppler
Deutsches Filminstitut – DIF e.V.
Deutsches Filmmuseum
Schaumainkai 41
60596 Frankfurt am Main
www.deutsches-filmmuseum.de
www.stanleykubrick.de

Our publications can be ordered in the online shop:
www.deutschesfilmmuseum.de/shop

To subscribe to the newsletter for the entire programme of the Deutsches Filminstitut – DIF e.V. / Deutsches Filmmuseum:
subscribe Newsletter
Here you can subscribe to or unsubscribe from the Stanley Kubrick newsletter.
&not drucken