[Original works from the Stanley Kubrick Estate.
Stanley Kubrick and Geoffrey Unsworth developed a system for calculating from the grey tones of b/w Polaroids the right lighting for filming
2001: A SPACE ODYSSEY.]
Update

&not Subscribe Newsletter
Deutsches Filmmuseum, Stanley Kubrick Newsletter No. 21, August 2007
Dear colleagues and friends:
this newsletter focuses on the Stanley Kubrick exhibition, providing information on current locations where the exhibition is shown, more detailed information on these sites and what other locations are planned to host the exhibition in the future. Furthermore, we would like to introduce you to our present exhibition programme.
Stanley Kubrick in Zurich (until 2 September 2007)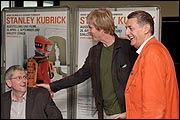 Currently the exhibition is installed at its fifth location, Zurich. A total of 200,000 visitors have already seen the exhibition on the legacy of the great director! Past locations include Frankfurt, Berlin, Melbourne and Ghent.
The Stanley Kubrick exhibition is the first large-scale cultural event hosted at the new multi-purpose centre 'Sihlcity'. The project was realized with the great support by cinema entrepreneur Eduard Stoeckli. A Kubrick retrospective at his cinemas accompanies the exhibition.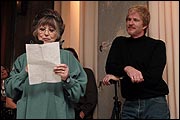 For the first time, the front projection rig from the exhibition part dedicated to Kubrick's 2001: A SPACE ODYSSEY (1968) will be shown at an international location. While this technique was still highly exceptional in Kubrick's time, he brought it to perfection with the incomparable look of the Dawn of Man sequence in his probably best known feature film. The exhibition will provide insights into this technique with a reconstructed set from the film.
Actor Matthew Modine was present at the opening on 25 April and spoke about his intense work with Kubrick on FULL METAL JACKET (1987) where Modine starred as marine Private Joker.
Kubrick on view - Photo-Gallery Zurich
For further information visit: www.kubrick.ch
Stanley Kubrick at the Palazzo delle Esposizioni, Rome (5 October 2007 through 7 January 2008)
Preparations for the exhibition in Rome have been going on for some time – now fall 2007 will finally see the opening. The Stanley Kubrick exhibition will be the first event at the magnificent Palazzo delle Esposizioni, located in the heart of Rome and again open to the public after a five year renovation period. Kubrick's works are presented in a double exhibition together with paintings by Mark Rothko. Both artists have set new standards in their fields; both refused to comment on interpretations of their works: "Paintings need to be mysterious", said Mark Rothko, while Kubrick replied to a question regarding the meaning of 2001: A SPACE ODYSSEY: "It's not a message that I ever intend to convey in words…".
The family, in particular Christiane Kubrick and Jan Harlan, is looking forward to the opening and the reunion with well-known guests like Malcolm McDowell, Matthew Modine, Ken Adam and many others.
The exhibition catalogue, which is already available in English and German, will also be published in an Italian translation.
Preview and Outlook
We are planning to show the Stanley Kubrick exhibition in at least two locations in the US. The Kubrick family would still very much like to see the exhibition coming to London, where the University of Arts administers the Stanley Kubrick Archive.
Some further exhibitions presented by the Deutsche Filmmuseum are currently on tour: The exhibition on Maria Schell, one of the famous film stars of the 1950s, can still be seen until 28 October at Castle Wolfsberg in Austria (Kaernten). Das Boot Revisited, which traces the crew of this highly acclaimed Bavaria film production, will be shown from November onwards at the Haus der Geschichte in Bonn. Our collaborative exhibition with Filmmuseum Duesseldorf on Karl Valentin, which presents Valentin the comedian as both pioneer of early film and media craftsman, is running until 28 October in Frankfurt and will afterwards be touring through Germany. Starting on 28 November is FilmKunstGrafik, a poster exhibition which focuses on the interplay of poster art and innovative graphic design in the 1960s. We are currently developing an international exhibition on the cultural phenomenon of Manga/Anime in collaboration with the Museum fuer Angewandte Kunst, Frankfurt – the exhibition opens in February 2008 and will be accompanied by a comprehensive publication and an exciting museum programme.
We are delighted to keep you updated with information on the Stanley Kubrick exhibition as well as our current programme!
Your exhibition team
Hans-Peter Reichmann, Tim Heptner, Maja Keppler
Deutsches Filminstitut - DIF e.V.
Deutsches Filmmuseum
Schaumainkai 41
60596 Frankfurt am Main
www.deutsches-filmmuseum.de
Further information on our exhibitions:
www.stanleykubrick.de
www.maria-schell.de
www.filmkunstgrafik.de
Our publications can be ordered via buchversand@deutsches-filmmuseum.de
The newsletter for the entire programme of Deutsches Filminstitut – DIF e.V. / Deutsches Filmmuseum can be subscribed here.
&not drucken