[Original works from the Stanley Kubrick Estate.
Stanley Kubrick and Geoffrey Unsworth developed a system for calculating from the grey tones of b/w Polaroids the right lighting for filming
2001: A SPACE ODYSSEY.]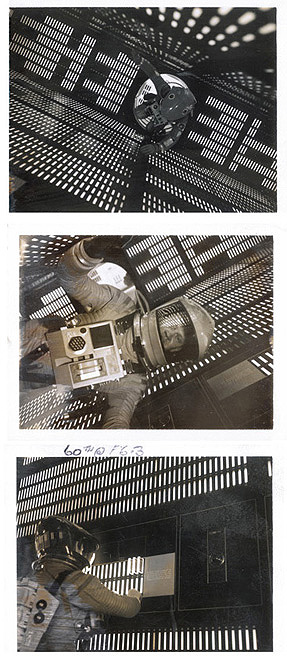 Update

&not Subscribe Newsletter
Deutsches Filmmuseum, Newsletter No. 20, December 2005
Dear colleagues and friends: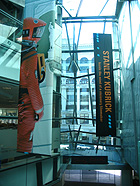 the Stanley Kubrick exhibition is a great success in Melbourne. During the first few days, more than 5,600 visitors came to see the exhibition of the Deutsches Filmmuseum at the Australian Centre for the Moving Image (ACMI). The show is presented at the Screen Gallery of ACMI until January 29th 2006. On all sides of the multi-cornered building numerous banners have been advertising
Stanley Kubrick: Inside the mind of a visionary filmmaker
several days before the opening of the show already. Inside the building long banners pointed out the exhibition at the Screen Gallery.
Preview and Opening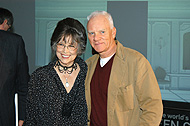 Christiane Kubrick und Malcolm McDowell
Premier Steve Bracks joined the show's preview on the morning of November 24th to emphasize the significance of the famed exhibition for ACMI and moreover for the province of Victoria. Melbourne is the only venue in Australia and the first international location of the show. Hans-Peter Reichmann and Tony Sweeney gave a first tour for press and guests of honour. Christiane Kubrick, Jan Harlan and Malcolm McDowell all travelled down under, the latter giving a lively report of his co-operation with Stanley Kubrick on A CLOCKWORK ORANGE. Exhibits and accessoires from the film presented in the show inspired him to talk about his experiences during the shooting of A CLOCKWORK ORANGE. His comment on the exhibition: "This is a great exhibition of a brilliant filmmaker. What memories!!! Go and see it! Thanks to all."
Opening Night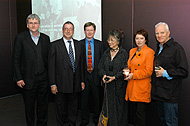 v.l.n.r.: Hans-Peter Reichmann, Terry Cutler, Tony Sweeney, Christiane Kubrick, Mary Delahunty, Malcolm McDowell
At the festive opening Christiane Kubrick gave a cordial speech to approximately 600 invited guests and mentioned that during the Cuba crises in 1962 Stanley had played with the thought of moving to far off Australia. On the ferry they would have had to share a bath – quite a reason to dismiss the plan. Mary Delahunty (Minister for the arts) focused on Kubrick's work and its significance for film history. By the way she told the audience how A CLOCKWORK ORANGE inspired her outfit for the opening night.
Kubrick Events
During the days following the opening, numerous visitors got the chance to speak to the guests of honour. The panel discussions at ACMI's modern cinemas (they are said to be among the best in the southern hemisphere!) followed by film screenings were all sold out.
Exhibition at the Screen Gallery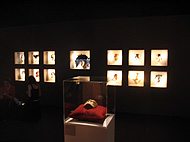 Venetian masks from EYES WIDE SHUT
Find further pictures under:
&not Photo-Gallery Melbourne
We wish you a merry Christmas and a happy new year!
&not drucken