[Original works from the Stanley Kubrick Estate.
Stanley Kubrick and Geoffrey Unsworth developed a system for calculating from the grey tones of b/w Polaroids the right lighting for filming
2001: A SPACE ODYSSEY.]
Update

&not Subscribe Newsletter
Newsletter No. 19 – Newswire, November 2005
Dear colleagues and friends:
Stanley Kubrick goes Melbourne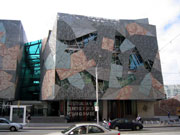 The first international location of the Stanley Kubrick exhibition is Melbourne, Australia. Retitled
Stanley Kubrick: Inside the mind of a visionary filmmaker
, the project will be presented at the Australian Centre for the Moving Image (ACMI) from November 25th, 2005 through January 29th, 2006. First contacts between the Deutsches Filmmuseum and ACMI were established during the show's presentation at the Martin-Gropius-Bau in Berlin (January 20th through April 18th, 2005). Since then, the two institutions have been working closely together to make the extensive exhibition about the complete works of the famous director accessible to the Australian audience. Tony Sweeney, Director of ACMI, situated in the heart of Melbourne and opened in 2002, emphasizes the uniqueness of the project: "ACMI is proud to be the only Australian destination for this exhibition." The Deutsches Filmmuseum excitedly anticipates the show's presentation on the other side of the globe. "Right from the beginning the exhibition was intended to be shown at international locations and with ACMI we had an energetic and very pleasant cooperation" says Hans-Peter Reichmann, manager of the project.
Opening at ACMI
Numerous guests of honour are expected for the opening on November 24th. Christiane Kubrick and Jan Harlan will be flying in from England; actor Malcolm McDowell (A CLOCKWORK ORANGE) is expected from Hollywood. Australian-born actress Nicole Kidman regrets not being able to attend the opening but expresses her happiness that the show is presented in her home country: "I am delighted that the Stanley Kubrick exhibition has come to Melbourne. I have such great memories of Stanley when filming EYES WIDE SHUT and I knew then, and know now, that I was working with one of the great artists of his generation. His films will stay relevant for future generations." Among others, Mary Delahunty, State Minister for the Arts, Dr Terry Cutler, Chairman of ACMI, and Tony Sweeney, Director of ACMI, will speak at the opening. Steve Bracks, State Premier of Victoria, will also be present earlier that day.
At the Location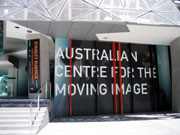 At ACMI, a team is busy setting up the exhibition in the subterranean Screen Gallery which was created by converting two underground railway platforms and measures more than 110m in length, 15m in width and almost 8m in height. It has become Australia's most visited space for screen-based contemporary art and has been designed to optimise the experience and display of the moving image. The most recent AV-technology enables the Gallery to power up to 250 screens. The Kubrick exhibition with its more than 1,000 exhibits, among these numerous valuable originals, marks a new phase in ACMI's development: contemporary media art and interactive installations are complemented by more traditional forms of presentation.
Special Events
Numerous special events around the exhibition offer visitors the possibility to look behind the scenes of Kubrick's work.
&not www.acmi.net.au/kubrick_special_events.jsp
&not drucken