[Original works from the Stanley Kubrick Estate.
Stanley Kubrick and Geoffrey Unsworth developed a system for calculating from the grey tones of b/w Polaroids the right lighting for filming
2001: A SPACE ODYSSEY.]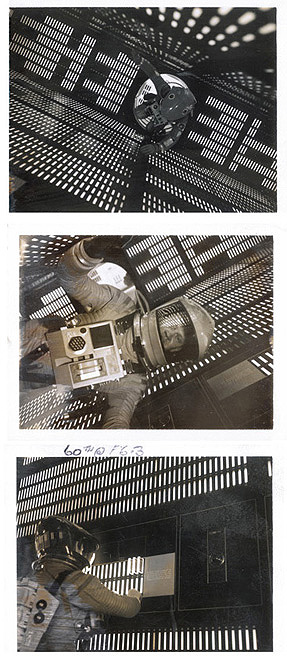 Update

&not Subscribe Newsletter
Newsletter No. 18 - Telegram - July 2005
Dear colleagues and friends: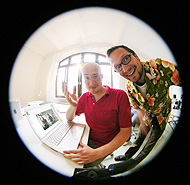 The virtual tour through the exhibition Stanley Kubrick in Berlin (20 January through 18 April 2005) is completed and can be found under
&not www.stanleykubrick.de
. The new panorama version offers a complete tour through all areas of the exhibition as it was shown at the Martin-Gropius-Bau on approximately 1,000 square metres. Several steps had to be taken before the panorama were finished: first, Simon Gallus and Jan Totzek (Foto,
&not www.2einhalb.de
), who were responsible for the conception and realization of the virtual tour, took about 150 photos of the exhibition using a so-called fish-eye-objective. Out of these, 50 perspectives were produced, three photos adding up to one perspective. All 50 were integrated and subsequently animated in an interface that was put together beforehand. Finally, the perspectives were optimized and touched up. New in this version: you can listen to sounds as they were presented in the exhibition, e.g. Christiane Kubrick singing Das Lied vom treuen Husaren in PATHS OF GLORY or the astronaut breathing under his helmet in 2001: A SPACE ODYSSEY (actually, this sequence was synchronized by Stanley Kubrick himself!).
After two successful German venues - Frankfurt am Main and Berlin – preparations are being made for the exhibition's world tour starting in Melbourne, Australia. The Australian Centre for the Moving Image (ACMI), is Australia's largest institution dedicated to screen-based art (
&not www.acmi.net.au
). Located on Federation Square, the media centre with its ground floor expanding over more than 10,000 square metres opened its doors in 2002 to the public. The exhibition will be shown there from 24 November 2005 through 29 January 2006. Director Tony Sweeney states: "We are delighted and proud to be the only Australian destination for the exhibition 'Stanley Kubrick: Inside the mind of a visionary filmmaker'. We at ACMI are delighted to be collaborating with the Deutsches Filmmuseum in bringing this fascinating exhibition to Australia." As well as at former locations, an extensive film program will accompany the exhibition at this venue.
&not drucken