[Original works from the Stanley Kubrick Estate.
Stanley Kubrick and Geoffrey Unsworth developed a system for calculating from the grey tones of b/w Polaroids the right lighting for filming
2001: A SPACE ODYSSEY.]
Update

&not Subscribe Newsletter
Newsletter no. 17, April 2005
Dear colleagues and friends:
The exhibition Stanley Kubrick in Berlin closed with a very successful closing event and a total of approximately 80,000 visitors. After its first venue at Frankfurt and its second venue at the Berlin Martin-Gropius-Bau it will now leave Germany and start on an international tour. Please find a brief preview of upcoming and planned venues at the end of this newsletter.
Ever since its opening people have been asking why this first international exhibition on the American-British film director was initiated in Germany of all places. Jan Harlan usually replied: "Because the people in Frankfurt were the first to ask". But beyond this fact there have always been links between Kubrick and Germany and we will take a closer look at these in this last edition.
With the closing of the exhibition in Berlin the Kubrick newsletter also bids its farewell for now. At the end of this newsletter you will find an overview of all of its 17 editions and their respective themes. We hope to have kept you well informed for the duration of the exhibition and, in addition, to have had something to offer to those readers who were not able to visit the exhibition.
1. Kubrick and Germany – Short portraits


Kubrick's relation to Germany initially was limited to his professional interest in German literature and histories that might be adapted to film. Later the relation took on more concrete shape in filming locations and colleagues. His interest in Arthur Schnitzler's
Rhapsody. A Dream Novel
, whose adaptation to film was to be his last project, persisted over decades. Even earlier Kubrick had been looking at another novel for a possible adaptation to screen: Stefan Zweig's
Burning Secret
. There is said to have been a screenplay of it in around 1956, authored by Stanley Kubrick and Calder Willingham for MGM. This was, however, not followed up upon (thirty years later
&not Andrew Birkin
made a film of the story). Another project that was never realized was
The German Lieutenant
, a film about German paratroopers at the end of World War II.
Instead Kubrick started filming PATHS OF GLORY in the spring of 1957. The filming took place (mostly for financial reasons) in Germany, at Munich's Bavaria-Studios and at nearby Schloss Schleißheim. Georg Krause was cinematographer on that set and spoke no English but still managed to come to an understanding almost without words with Kubrick about the visual style of the film. For the closing sequence Kubrick cast as a young German prisoner Susanne Christian, his future wife
&not Christiane Kubrick
. Her brother Jan Harlan was from 1969 Kubrick's closest assistant. Partly also because the siblings' uncle was Nazi film director Veit Harlan did recent German history remain a recurring theme with Kubrick. He had been looking for an adaptable text for a film on the Holocaust for a long time when he happened upon Louis Begley's
Wartime Lies
. The resulting project
Aryan Papers
remained unfinished.
Kubrick returned to a German film location once more: for the work on BARRY LYNDON, which is partly set in Potsdam, at Hohenzollern castle, and at Ludwigsburg palace. Here too he needed to cast the role of a young German woman. Diana Körner played the role of the "Fräulein" who has an amorous adventure with Redmond Barry on his flight from military service. Set designer
&not Jan Schlubach
undertook the location hunt. We published a portrait of him, as well as of Kubricks important production designer
&not Sir Kenneth Adam
alias Klaus Hugo Adam. In this newsletter we would like to portray four more people from Germany who were all in touch with Kubrick for a single project.
Hardy Krüger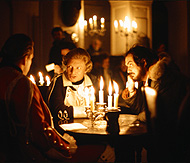 Hardy Krüger, actor and author who recently turned 77, was one of the actors in German postwar film who also appeared successfully in international productions. Later he attained fame in Germany starring in the TV-series "Weltenbummler" (globetrotter). After spending his youth at an elite Nazi boarding school and appearing at age 15 in the propaganda film JUNGE ADLER (1943) he had his political "awakening" through Ufa-actors working in the resistance movement. From then on he saw himself as ambassador for "another Germany". Apart from some rather harmless light films in the Fifties, he worked with emigrated film director Otto Preminger on the German version of THE MOON IS BLUE (1953) and with Helmut Käutner on THE REST IS SILENCE (1959). His international breakthrough came in 1957 with the English film THE ONE THAT GOT AWAY. In subsequent years he collaborated with film directors Howard Hawks and Robert Aldrich and at the side of Hollywood stars like John Wayne, James Stewart, and Anthony Quinn. He was often cast as German officer. Krüger's collaboration with Kubrick was one of the highlights in the actor's career. In BARRY LYNDON he played the Prussian captain Potzdorf who tracks down the deserter Redmond Barry and places him in his army. He worked with Ryan O'Neal once again shortly after that, in Richard Attenborough's A BRIDGE TOO FAR (1977). On view at the
&not Deutsches Filmmuseum
Frankfurt am Main now through June 19 is the exhibition Hardy Krüger—Actor, Author, Globetrotter.
Barbara Baum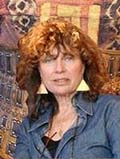 When Jan Schlubach recommended her Kubrick hired the accomplished German costume designer for
Aryan Papers
. Her early career is closely linked to Rainer Werner Fassbinder with whom she continued to work until his death, among others on THE MARRIAGE OF MARIA BRAUN (1979), BERLIN ALEXANDERPLATZ (1980), LOLA (1981), and LILI MARLEEN (1981). Since then she has been working for German and international film and television productions, for example HOMO FABER (1991), KATHARINE THE GREAT (1995), SMILLA'S SENSE OF SNOW (1997), and most recently SPEER AND HITLER: THE DEVIL'S ARCHITECT (2004). Julie Christie wrote in a dedication on a photo "To my dear brilliant Barbara who made me look so good". Her costumes for Andrew Birkin's THE BURNING SECRET got her an award at Venice in 1988. In 1992/93 a first interview for
Aryan Papers
took place. During a break in the collaboration she worked on THE HOUSE OF SPIRITS, which in 1993 brought her another award for lifetime achievement. After initial difficulties with Kubrick's high standards and his minimalist style of communicating her enthusiasm grew: "It was a singular story. Never before or after have I approached a project in that manner." She worked at Kubrick's country estate and undertook various research trips, procured original uniforms, drew up costume lists based on the shooting scripts, and supervised dress rehearsals in Berlin with the projected leading actress, Johanna ter Steege. After the disappointing break-off of the filming Kubrick wrote to her in a Christmas card: "All the work will not have been in vain". The Deutsches Filmmuseum Frankfurt in collaboration with the Filmmuseum Potsdam is currently preparing an exhibition on Barbara Baum.
Edgar Reitz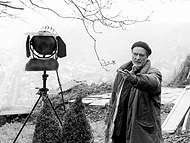 With HEIMAT (1984), the probably most ambitious project in post-war German film history, Edgar Reitz became one of Stanley Kubrick's favorite film directors. It comes as no surprise that the attention to detail and the amazing long narrative breath of the almost 1000 minute long film roused Kubrick's admiration. He saw all of it in his private movie theater and hung his favorite film still (of Maria's coffin on the rainy street in Schabbach) over his desk. Kubrick contacted Reitz at that time to ask him about his set designer Franz Bauer whom he considered for
Aryan Papers
. When, years later, Kubrick had finished the filming of EYES WIDE SHUT he expressed the wish that all dubbed versions in the most important European countries be supervised by his favorite film directors: in France Patrice Chareau, in Spain Carlos Saura, in Italy Bernardo Bertolucci, and in Germany Edgar Reitz. At that time Reitz was busy preparing HEIMAT III, yet after Kubrick's untimely death he bent to his wish. Please consult the catalogue and
&not Newsletter no. 2
for more information on this.
Photo: ©: Bernd Weisbrod
Charles Wilp


Raised in Berlin and until recently living at Düsseldorf, artist and filmmaker Charles Wilp is considered by some as a "crazy", the secret hero of pop culture by others. In 1968 he produced for Afri Cola the first psychedelic commercials in television history. At documenta 5 he was represented in a one man show as "consumer realist" and has been advertising himself ever since as a Gesamtkunstwerk. Influential teachers to him were personalities like Man Ray, Andy Warhol, and – Stanley Kubrick. Wilp worked as set runner on 2001: A SPACE ODYSSEY, where he picked up important filmmaking techniques and discovered the artistic theme of his life: weightlessness, in which, according to his conviction, creativity finds its only genuine outlet. He called himself ARTronaut, participated in several practice flights for potential astronauts, and sent his artworks as "cultural baggage" via satellites and rockets into space. He enrolled on the waiting list for a flight to space station MIR. This, his greatest wish, remained unfulfilled as he died earlier this year at age 72.
We would like to add one other thing: Many times this year in connection with the Kubrick exhibition people inquired about
&not Arthur C. Clarke
whose portrait we included in our very first newsletter and whom we would like to mention again at this point. The scientist, science fiction author, and co-author of 2001: A SPACE ODYSSEY has long been living on Sri Lanka as an oceanographer and there was directly threatened by the Tsunami. His diving station was completely destroyed but he himself survived unhurt. Please refer to his
&not website
for current information.
2. Re-view: The finissage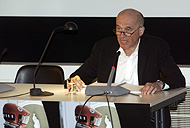 The closing event at the Berlin Martin-Gropius-Bau was devoted to Kubrick's largest and never-realized project:
Napoleon
. In her lecture rich with details Eva-Maria Magel reported about her discoveries in the Estate and described the truly incredible work effort Kubrick had put into
Napoleon
for years. Following the lecture was a premiere: actor/author Hanns Zischler read for the first time from Kubrick's hitherto unpublished Napoleon screenplay. The passages, recited by Zischler in original language, are going to be incorporated as audio material in the Napoleon sections of the exhibition. After the reading the almost 100 guests had the opportunity to ask questions of Jan Harlan whose collaboration with Kubrick had started with the Napoleon project.
3. Preview: Upcoming venues


It is now certain that the exhibition Stanley Kubrick will be shown in Rome at the beautiful Palazzo delle Esposizioni in almost exactly a year from now: it will open there on 21 April 2006. Before this another venue is in all likelihood going to be Melbourne, Australia. Many other venues in English language countries are currently being negotiated. For up-to-date information please refer to our website. Also, you may shortly find on this website new panorama views (with expanded navigational options) of the Berlin exhibition. These are going to substitute the pictures from the Frankfurt exhibition. There will be a small Kubrick epilogue in Berlin: Delphi-Palast will show a newly restored copy of BARRY LYNDON starting 8 May every Sunday at noon.
Finally published is the TASCHEN book
The Stanley Kubrick Archives
by Alison Castle (Hardcover + CD + Booklet, 411 x 300 mm, 544 pages, USD 200.00 / GBP 100.00 / EUR 150.00).
4. Overview: All newsletters


&not No. 1, November 2003
Theme: 2001: A SPACE ODYSSEY, This month's object: ape costume from 2001: A SPACE ODYSSEY, Portrait: Arthur C. Clarke
&not No. 2, December 2003
Theme: family/Christmas – THE SHINING / EYES WIDE SHUT, This month's objects: Tom Cruise's mask from EYES WIDE SHUT / twin dresses from THE SHINING, Portrait: Sky du Mont
&not No. 3, January 2004
Theme: music in Kubrick's films – A CLOCKWORK ORANGE, This month's object: record player "Hydraulic Reference" from A CLOCKWORK ORANGE, Portrait: Wendy Carlos
&not No. 4, February 2004
Theme: war films – FEAR AND DESIRE / PATHS OF GLORY / DR.STRANGELOVE / FULL METAL JACKET, This month's objects: survival kit from DR. STRANGELOVE / Private Joker's helmet from FULL METAL JACKET, Portrait: Matthew Modine
&not No. 5, March 2004
Work in progress: Installation of the exhibition, floor plans of the exhibition, Announcements: exhibition opening, film series
&not No. 6, April/May 2004
After the opening: press clippings, Announcement: "Nacht der Museen" (Night of Museums)
&not No. 7, June 2004
Theme: BARRY LYNDON, This month's object: Zeiss-Objectif f0.7, Portrait: Jan Schlubach, Announcements: symposium, finissage, 20-year anniversary of the Deutsches Filmmuseum
&not No. 8, September 2004 (telegram)
Announcements: new exhibition venue at Berlin, eDIT
&not No. 9, October 2004
Theme: early films – KILLER'S KISS, THE KILLING, This month's object: Eyemo-camera, Portrait: James B. Harris, Miscellany: re-view of eDIT, new features on the website
&not No. 10, November 2004
Theme: early photographs, This month's object: Look-scrapbook, Portrait: Kubrick's family
&not No. 11, December 2004 (telegram)
Christmas greetings EYES WIDE SHUT
&not No. 12, January 2005 (telegram)
Announcement of the exhibition opening at Martin-Gropius-Bau, Berlin
&not No. 13, January 2005 (telegram)
Re-view of the opening
&not No. 14, February 2005
Theme: production design, This month's object: Djinn chairs from 2001: A SPACE ODYSSEY; Portrait: Kubrick's production designers (Ken Adam, John Barry and others)
&not No. 15, March 2005
Theme: Kubrick's never realized projects – "Napoleon", This month's object: card index for research on "Napoleon", Portrait: Andrew Birkin
&not No. 16, April 2005 (telegram)
Announcement of the finissage
&not No. 17, April 2005
Theme: Kubrick and Germany, Portraits: Hardy Krüger / Barbara Baum / Edgar Reitz / Charles Wilp, Re-view of the finissage
&not drucken