[Original works from the Stanley Kubrick Estate.
Stanley Kubrick and Geoffrey Unsworth developed a system for calculating from the grey tones of b/w Polaroids the right lighting for filming
2001: A SPACE ODYSSEY.]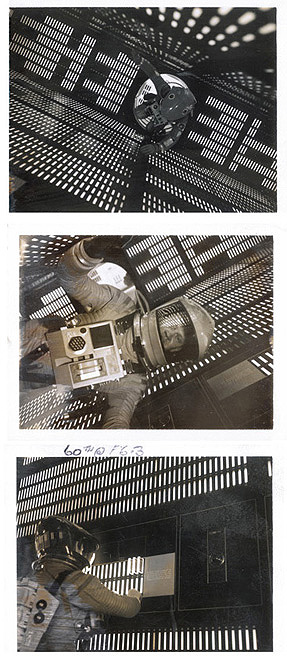 Update

&not Subscribe Newsletter
Newsletter No. 13 - Telegram - January 2005
Dear colleagues and friends:
Since 20 January 2005 the exhibition Stanley Kubrick can be seen at its new venue at the Martin-Gropius-Bau (Berlin) where it started off with great success. The first weekend counted 5.500 visitors, 1.500 of these at the opening of this "groundbreaking show"
(Frankfurter Allgemeine Zeitung, 20 January 2005)
.
The presentation of Deutsches Filmmuseum was developed in cooperation with Deutsches Architektur Museum and at its first venue in Frankfurt reached the record number of 54.000 visitors. It is now presented in cooperation with the Filmmuseum Berlin - Deutsche Kinemathek and with support from the 55th International Film Festival Berlin in the German capital where it remains through 11 April 2005. The Martin-Gropius-Bau is open Wednesday through Monday from 10a.m. through 8p.m. The exhibition will remain open throughout the week of the International Berlin Film Festival.
At the Berlin exhibition opening on 19 January in the courtyard of the Martin-Gropius-Bau the guests of honor were Christiane Kubrick, Jan Harlan, and Sir Kenneth Adam, who all spoke words of greeting. Karin Schubert, Mayor of Berlin spoke on behalf of the Governing Mayor. The cultural deputies of the city of Frankfurt and of the state of Hesse, Dr. Hans-Bernhard Nordhoff and Prof. Dr. Joachim-Felix Leonhard respectively, emphasized in their speeches the high quality of the presentation "made in Frankfurt" and lauded the general as well as the scholarly significance of the important research at the Kubrick Estate. As Executive Board and Artistic Director of the German Federal Cultural Foundation Ms. Hortensia Völckers addressed the exceptional importance of film director Stanley Kubrick. Jan Harlan emphasized his wish to anchor Kubrick's work in public awareness and to make the films available to the younger generation. Christiane Kubrick closed by saying: "I am convinced that Stanley would have been very proud".
Among the numerous guests of the opening were several personalities from politics, the culture industry, and film, among them film directors Volker Schlöndorff and Romuald Karmakar and the actor Ulrich Matthes. With some
&not photographs
we hope to convey an idea of the spirit of the celebration to those of our newsletter subscribers who were unable to attend. Enjoy!
&not drucken