[Original works from the Stanley Kubrick Estate.
Stanley Kubrick and Geoffrey Unsworth developed a system for calculating from the grey tones of b/w Polaroids the right lighting for filming
2001: A SPACE ODYSSEY.]
Update

&not Subscribe Newsletter
Newsletter no. 9, October 2004
Dear colleagues and friends:
The Stanley Kubrick exhibition now has a definitive date again: at the
&not Martin-Gropius-Bau
in Berlin from January 20 through April 11 2005. And for that reason, we are resuming, after our brief time-out, the publication of the extended version of the Kubrick newsletter. We would like to take the opportunity to ask you, our subscribers, for feedback. What do you especially like about the newsletter, what do you like less? What information was particularly informative? What else about Kubrick and the exhibition project would you like to read about? For your reply please use our
&not form
. We are looking forward to many replies. We will randomly pick three winners from all entries and give away one catalogue and two sets of postcards with Kubrick-motifs. Thank you!
In the first new issue we would like to go back to Kubrick's beginnings as a filmmaker, which are neglected all too often in favor of titles like 2001: A SPACE ODYSSEY. The three documentary films, DAY OF THE FIGHT, FLYING PADRE, and THE SEAFARERS that Kubrick made after his early career as a photographer for Look are rarely shown anymore (most recently in the comprehensive series in conjunction with the Frankfurt exhibition). His very first feature film, FEAR AND DESIRE, is-according to his own wish-never shown publicly. KILLER'S KISS and THE KILLING can still be seen but they remain relatively unknown in comparison to the later Kubrick films starting with PATHS OF GLORY and LOLITA, which now almost everybody knows. Yet the first two mentioned were already highly interesting historically, technically, and visually and are considered by some critics to be late masterworks of film noir. In connection with the retrospective at Deutsches Filmmuseum the newspaper
Frankfurter Rundschau
wrote: "If you think that it was Quentin Tarantino who invented for the movies the narrative with temporally overlapping sequences, with jumpings ahead and flashbacks, then go see Stanley Kubrick's THE KILLING from 1956 tonight. A lesson in staging, photography, and the art of directing."
1. This month's object: the Eyemo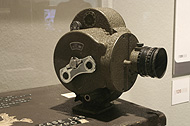 An important mark of the film director Kubrick was his innovative and varying use of cameras and lenses, which has its roots in his beginnings in photography and pervades his entire career. Early in his film career he used a very special camera, the Eyemo from Bell & Howell. It is powered by a spring drive that has to be wound up by hand and only holds 30 meters of film for approximately one minute, but it is built extremely compact and robust. Since the 1930's this was of great use especially to war reporters and documentary filmmakers working under difficult conditions. The Eyemo was standard equipment for newsreel productions and was used by the US-Army in World War II. Kubrick worked with this camera in his three documentary films, but also in KILLER'S KISS: in the dynamic sequences of the fight. With exactly this scene he took up where he had left off with his first short documentary DAY OF THE FIGHT, which climaxed in Walter Cartier's fight against Bobby James. As Bernd Kiefer explained in his essay in the exhibition catalogue, Kubrick here dropped the principle of the purely documentary filming the especially remarkable sequence looking up from directly below, from the floor of the boxing ring.
2. Short Portrait: James B. Harris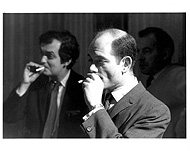 KILLER'S KISS is the film that brought Kubrick together with producer James B. Harris. They did three films together and became friends for life. Like Kubrick, Harris had initially tried his luck as a jazz drummer and had spent a year at Juilliard School of Music before working for film distributor Realart and starting a career as producer. In the Army he met Kubrick's school buddy Alexander Singer who joined Harris in making a short film and who eventually introduced him to Kubrick. The latter invited Harris to a preview of KILLER'S KISS who was deeply impressed with Kubrick's second solo production and suggested a cooperation. Harris acquired the rights for the novel
Clean Break
by Lionel White on which they based the first production of Harris-Kubrick Pictures: THE KILLING. They were able to win Sterling Hayden (THE ASPHALT JUNGLE) as lead actor and Lucien Ballard as cinematographer. They persuaded United Artists to invest and Harris himself contributed a large sum. In spite of criticism and after a brief interlude of chronologically rearranging the cuts, they held on to the film's complex structure of flashbacks and thereby established its lasting significance.
In their next film, PATHS OF GLORY, which brought the final international breakthrough for Kubrick, Kirk Douglas entered the game. He pushed the project remarkably, yet he forced Harris and Kubrick to make a deal with his own company, Bryna Productions. Douglas eventually hired Kubrick as director for SPARTACUS, which meant an interruption in the cooperation with Harris. However, the two joined forces for one more production: the controversial Nabokov adaptation LOLITA helped Kubrick win his independence after the experience with the "commissioned" production SPARTACUS. After that Kubrick and Harris went separate ways. Kubrick moved to England for good where earlier he had filmed LOLITA and where he now started filming DR. STRANGELOVE. Harris switched to the director's seat himself for THE BEDFORD INCIDENT (1965) and later directed SOME CALL IT LOVING (1973), FAST-WALKING (1982), COP (1988), and-most recently-BOILING POINT (1993).
3. Re-View: eDIT/VES Festival Honours for Stanley Kubrick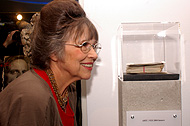 This year the eDIT/VES European Festival for Production and Visual Effects gave out the Festival Honours to Stanley Kubrick posthumously as well as to production designer Dante Ferretti, editor Tom Rolf, and cinematographer Vilmos Zsigmond. They all represent not only outstanding creative film craft, but they also bridge the gap between Hollywood and European cinema, something that Kubrick-more than others-realized in his own biography. At the opening ceremonies his wife Christiane accepted the award from the prime minister of Hesse, Roland Koch. In a touching speech she recalled the simple "handmade" tools that helped create the breathtaking visual effects of 2001: A SPACE ODYSSEY. She also expressed her conviction that Kubrick-who was intrigued by technical aspects and fanatic about orderliness-would have liked to work more with computers-"had he lived longer". At Deutsches Filmmuseum she inaugurated in the
&not "Wall of Fame"
an installation in display cases that will give Stanley Kubrick a permanent space in the museum even after the end of the exhibition. The display case in a pillar contains the so-called "Sasco-cards": filing cards that can be attached to large charts and that constituted a filing system Kubrick and his special effects-team used for 2001: A SPACE ODYSSEY in order to keep track while filming of the space sequences.
4. New features on this website


At the
&not Press
link you can now view selected
&not excerpts
from reports and reviews (through July 2004) about the Frankfurt Stanley Kubrick exhibition-from the
Frankfurter Allgemeine Zeitung
to the
New York Times
. Also starting now you will find a special feature at the link
&not Kubrick on view
: here you can go on a virtual tour through the exhibition rooms with the help of 360° angle
&not panorama shots
from twelve different starting points. The panorama shots were realized in cooperation with Jochen Kratschmer /
&not www.bestechend.de
. To be able to view them you need
&not Quick Time Player
.
&not print