[Original works from the Stanley Kubrick Estate.
Stanley Kubrick and Geoffrey Unsworth developed a system for calculating from the grey tones of b/w Polaroids the right lighting for filming
2001: A SPACE ODYSSEY.]
Update

&not Subscribe Newsletter
Newsletter No. 8 - Telegram -, September 2004
Dear Colleagues and Friends:
Starting October 2004 the Kubrick-newsletter will resume informing you in the well-established manner about all news around the Stanley Kubrick Exhibition. The rubrics "This Month's Object" and "Brief Portrait" will be continued and there is going to be a special focus on the Kubrick Exhibition in Berlin.
Stanley Kubrick in Berlin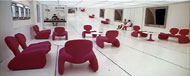 From January 20 through April 11 2005
&not Deutsches Filmmuseum
will be presenting the Stanley Kubrick Exhibition in the rooms of the
&not Martin-Gropius-Bau
in Berlin. It will take place in co-operation with the
&not Filmmuseum Berlin – Deutsche Kinemathek
and is supported by the
&not 55th Berlin International Film Festival
(February 10 through 20 2005). The Berlinale is planning a focus on "production design" and will, in its retrospective as well as in other events, aim for a close connection with the Kubrick Exhibition. Simultaneously the Filmmuseum Berlin is going to present an exhibition on various aspects of production design in film.
Photo: 2001: A Space Odyssey, © Warner Bros. Entertainment Inc.
eDIT|VES
The European Festival for Production and Visual Effects

September 26 through 28 2004, CineStar METROPOLIS, Frankfurt am Main
Since last year eDIT|VES is giving out the Festival Honors to distinguished professionals who have decisively contributed to the artistic and technical development of the medium film. In conjunction with the award each recipient is honored in a permanent display case, the "wall of fame", in the Deutsches Filmmuseum. This year, Stanley Kubrick as one of the great visionaries of film will be honored posthumously. Christiane Kubrick and her daughter Katharina Kubrick will attend the ceremony to accept the award. The Photo-Call for the unveiling of the display cases will take place on Sunday, 26 September, at 11.30a.m. in the foyer of the Deutsches Filmmuseum. The official award ceremony, led by the prime minister of the State of Hesse, Roland Koch, is going to be held at the eDIT|VES Gala on Sunday at 8p.m. at CineStar METROPOLIS. Other award recipients this year are Dante Ferretti (production designer), Tom Rolf (editor), and Vilmos Zsigmond (cinematographer).
For more information on eDIT go to
&not www.edit-frankfurt.de
Our suggestion: "The Art of Production Design. Dante Ferretti interviewed by Boris Hars-Tschachotin"
Sunday, September 26 2004, 2:30-4:00p.m., CineStar METROPOLIS, Kino 3. Hars-Tschachotin has published an essay on Ken Adam's production design for DR. STRANGELOVE as well as an interview with Adam in our exhibition catalogue Stanley Kubrick.
Excerpt from the catalogue Stanley Kubrick:
&not Interview with Ken Adam
(Auszug).
Order the
&not catalogue
"Stanley Kubrick".
&not drucken