[Original works from the Stanley Kubrick Estate.
Stanley Kubrick and Geoffrey Unsworth developed a system for calculating from the grey tones of b/w Polaroids the right lighting for filming
2001: A SPACE ODYSSEY.]
Update

&not Subscribe Newsletter
Newsletter No. 4, February/March 2004
Dear colleagues and friends:
No one looking into Stanley Kubrick's work can avoid encountering one theme that attracted the director's attention time and again: war. In his first, allegorical, film FEAR AND DESIRE (1953) he had four soldiers wander through a fictional no-man's-land to finally confront in their 'enemies' reflections of themselves. His fourth film, PATHS OF GLORY (1957) (that brought about his breakthrough and that fell victim to censorship in several countries) is set in World War I and focuses on the power games of corrupt generals. With the grotesque DR. STRANGELOVE OR: HOW I LEARNED TO STOP WORRYING AND LOVE THE BOMB (1964) he created a memorable and satirical monument to the Cold War and the madness of the nuclear armaments race. In his next to last film FULL METAL JACKET (1987) he dealt with the Vietnam War in a more merciless manner than anyone before him. With SPARTACUS and BARRY LYNDON it is the monumental battle scenes that linger in one's memory. Kubrick's opus magnum 2001: A SPACE ODYSSEY compresses the evolution of an ongoing state of war of mankind in just one cut: from the bone an ape has just learnt to use as a weapon across millions of years to a military satellite in space. Yet, as Georg See▀len writes in the catalogue, "Kubrick certainly does not describe the war 'fatalistically', as some critics have accused him of doing, but instead [his vision] lead[s] to a recognition of war's total absurdity."
1. Work in Progress
In accordance with Stanley Kubrick's wish (which is respected by his family even today), FEAR AND DESIRE can still not be shown in movie theaters. Yet the exhibition will feature photographs from the Estate documenting the production of Kubrick's first feature film. The shooting took place under modest conditions and with only a small crew in the spring of 1951 in the San Gabriel Mountains near Los Angeles. For financial reasons post-production took until 1953. In later years Kubrick himself called FEAR AND DESIRE the pretentious work of an amateur while contemporary critics showed themselves rather impressed-especially by his camera work.
PATHS OF GLORY plays a special role in Kubrick's life and work. To lower the costs the film was shot in Germany. At that time Kubrick met actress Susanne Christian (nee Christiane Susanne Harlan, later Christiane Kubrick) to whom he was married until his death. In the final scene of PATHS OF GLORY she plays a German prisoner singing the song of the 'faithful hussar' (Das Lied vom treuen Husaren) managing to first quiet down the hooting soldiers who then sadly join in. In the exhibition, this pivotal and touching scene will be an important component of the installation for PATHS OF GLORY.
2. This Month's Object
On board of the B-52 bomber piloted by Major T.J. "King" Kong in DR. STRANGELOVE Stanley Kubrick placed as a symbol of the Cold War the curious Survival Kit. Visitors to the exhibition will be able to see parts of its varied contents, among them the miniature bible combined with a Russian dictionary. During a security check on the flight Major Kong reads out loud the list of the Kit's contents: "Survival Kit contents check. In them you will find: one 45 caliber automatic, two boxes of ammunition, four day's concentrated emergency rations, one drug issue containing antibiotics, morphine, vitamin pills, pep pills, sleeping pills, tranquilizer pills, one miniature combination Rooshan phrase book and Bible, one hundred dollars in rubles, one hundred dollars in gold, nine packs of chewing gum, one issue of prophylactics, three lipsticks, three pairs of nylon stockings - shoot, a fellah could have a pretty good weekend in Vegas with all that stuff ...". Initially Kong had said "Dallas" instead of "Vegas" but this was changed after Kennedy's assassination. For the same reason a special screening on November 22, 1963 was cancelled at the last minute, as can be learnt from a written note by Kubrick on one of the invitations.
3. Portrait: Matthew Modine alias Private "Joker"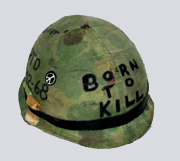 Another object that will be shown in the exhibition is the helmet from FULL METAL JACKET. The grotesque combination of its inscription, "Born to Kill", and the attached peace button is a reference to the ambiguity of Private "Joker". The helmet was worn by Matthew Modine who so strikingly played this character with all its ambivalence. The actor was born in 1960 and today works as a director himself. At the film festival in Venice he had won the best actor award for STREAMERS (Robert Altman, 1983) and had, ironically, played a traumatized Vietnam veteran in BIRDY (Alan Parker, 1984) when Kubrick hired him to play the leading role in FULL METAL JACKET. Modine talks about his work on these war movies in an interview: "If I do films about war, it is only those like Robert Altman's Streamers, like Full Metal Jacket, or Birdy. They portray war in a manner that I think conveys unromantically a certain truth. Film is political and above all truly powerful, and Stanley Kubrick understood that better than anybody else" (in: Schnitt, no. 16, p.48). Matthew Modine will make available to Deutsches Filmmuseum diary entries and photographs from the shooting. They will soon be posted here.
In regard to the character of "Joker" and the range from Kubrick's early to his later images of war (covering a period of more than thirty years) we would like to quote from Georg See▀len's catalogue entry once more: "There is more than one path that leads from PATHS OF GLORY via BARRY LYNDON to FULL METAL JACKET: in the first film the soldiers were still victims of a cold and cynical military machine, which heedlessly sacrificed individuals when this served a path upwards on a career ladder; in BARRY LYNDON, we see the soldiers marching into a senseless death, not only as 'sleepwalkers' bereft of a will of their own, but also as if magically attracted by enemy fire without any impulse to flee; finally, in FULL METAL JACKET the soldiers are now not just victims of this machinery of war, they are a part of it. Here, madness is not an exclusive preserve of the higher ranks; it is omnipresent, for any distinction between victims and perpetrators is no longer possible. Joker is also in the process of becoming, as perhaps his name suggests, a completely schizophrenic person, an intellectual, who decorates himself with a symbol of peace and who functions in the machinery of war almost better than all those who only want to function."
4. Miscellaneous


The exhibition catalogue went into print on 1 March and will be ready in time for the exhibition opening on March 30. A
&not brief preview
and an ordering form are available.
&not print