[Original works from the Stanley Kubrick Estate.
Stanley Kubrick and Geoffrey Unsworth developed a system for calculating from the grey tones of b/w Polaroids the right lighting for filming
2001: A SPACE ODYSSEY.]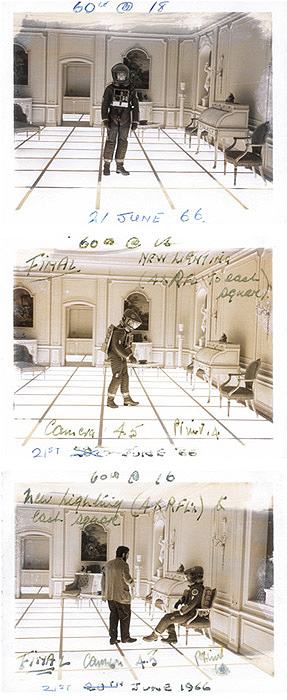 Kubrick project

&not Envisioning Kubrick
&not Cataloguing the estate
Stanley Kubrick is one of the most outstanding directors in film history. For the first time worldwide, the Deutsches Filmmuseum and the Deutsches Architektur Museum in Frankfurt am Main present a major exhibition on his work.
In close co-operation with Christiane Kubrick and his long-standing executive producer, Jan Harlan, the inaccessible estate of the director has been catalogued. For eight months an archivist of the Deutsches Filmmuseum has been researching at the estate at St. Albans, near London.
Already during the preparatory phase, the project had evoked great interest among the public. Actors who worked with Kubrick, for example,
&not Nicole Kidman
,
&not Tom Cruise
and
&not Sky du Mont
- and colleagues like
&not Sidney Pollack
,
&not Steven Spielberg
,
&not Sir Arthur C. Clarke
and
&not Wendy Carlos
are supporting the exhibition.
&not Warner Bros., USA
and
&not Warner Bros., Germany
, the key holder of the copyrights, is the first co-operation partner.
Stanley Kubrick planned his film projects down to the minutest detail. Therefore, the primary material itself is extensive indeed: costumes, props, technical material, photographs, film and numerous written documents are part of his estate. The systematic archiving and cataloguing of these materials will take years and will bring to light new aspects and understanding of Kubrick. On an area of more than 1,200 square metres the Stanley Kubrick exhibition presents a representative part of the Kubrick legacy. After the premiere in Frankfurt am Main (March 31 to July 4 2004) the exhibition will be on show at further locations in Germany and abroad. The exhibition catalogue is available in English and in German.
&not print